Scheyer in North America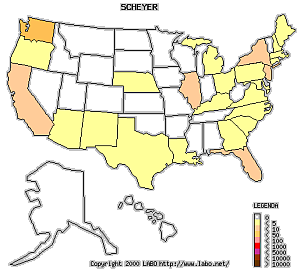 Of course, it also drew Scheyers into the new world. Looking at the passenger lists of emigrant ships sometimes you see the name Scheyer on it. Johannes Till Scheyer from the area of Nordhofen even shuttled several times. I could not yet arrange him in my ancestory.
The best documented case is Ernst Scheyer. I found his details on www.ancestry.com. His granddaughter, Dorothy Tenney / Stoehr has written several reports on this family. These stories, and part of the family tree were published by her granddaughter Laura Hazel in Hazel Family Tree. Unfortunately, I still could not get in touch with Laura. In her records I found a note that Jacob, the older brother, moved to the USA before Ernst did.
If you look at the Geogen map, one sees the present distribution of Scheyer's in the USA.
I hope that this Website gives me the possibility to get in contact with persons who are named Scheyer in North America.